Alternate Investment Summary
Traditional markets found themselves under pressure this week as a flurry of central bank comments (most notably from the ECB and US Fed) about continuing to provide accommodative policy failed to curb the trend of rising longer-term bond yields. After all, low yields have been a key pillar supporting last year's incredible stock market performance.
Last week saw the pace of these increases accelerate, and in risk-off market moves reminiscent of 2013's Taper Tantrum when global stock markets and gold reacted with a sharp move downwards while the dollar appreciated
GameStop was again in the news as a notable exception to the stock market rout. This was despite pandemic headwinds continuing to ease — evidenced by encouraging US employment data and continued vaccine rollouts — and strong expectations for more fiscal stimulus globally.
US stimulus negotiations continued, with a vote on a revised bill being put to the House tonight (if passed it will head to the Senate for final passage).
The revised bill no longer stipulates contentious changes to minimum wages .In addition, Biden administration is desperately trying to ensure passage before 14 March when some of the provision from the emergency relief bill signed in December runs out.

Fed actions in future will determine if this rally will sustain or there would be risk off and flight to safety!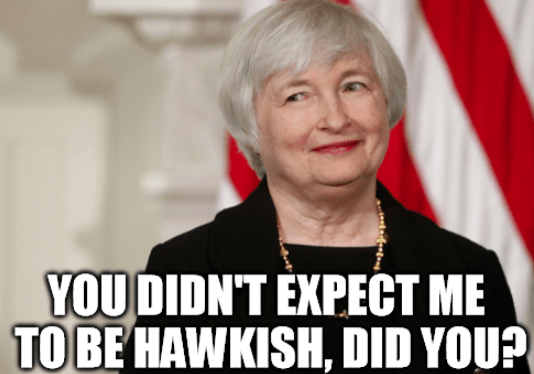 My Alternate Investment Portfolio Performance
We have reached a stage in public markets where in one hand you feel you are missing all the gains while on the other hand you do not want to risk lot of capital at this valuation. The best approach is to have some allocation to equity but do not go overboard because your friend made 100% in some penny stocks!
Yield Generation Alternate Investment Platform Performance (Annualized).
Klubworks has been the new addition in my portfolio and is yielding 21.5% IRR !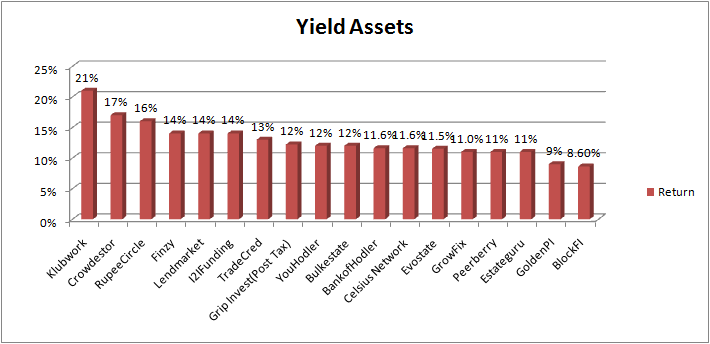 Capital Gain Alternate Investment Performance (Annualized)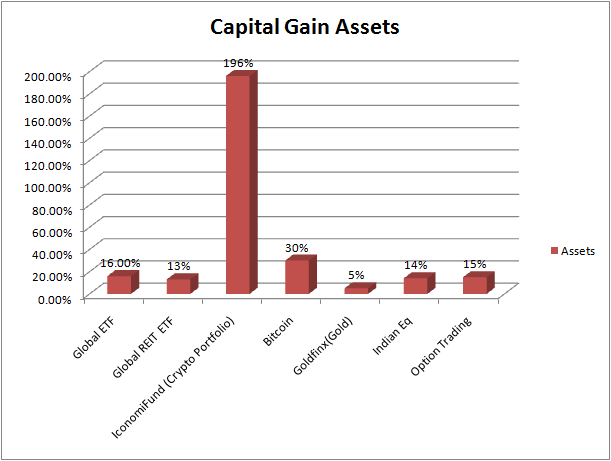 February had again been a month of Altcoins. My total portfolio return have reached 800% for crypto in last 10 months. A lot has to be attributed to the enormous liquidity in the market plus some big names like Elon Musk joining the bandwagon.
I have not implemented my strategy on TradeTron yet but I have been running my Gamma Strategy manually and it has delivered 15% Return in the last 3 months. There are some similar strategies on TradeTron but needs to be backtested.
Revenue Based Financing – Klubworks
My first investment on Klubworks is on track. I would be soon investing in another deal once I develop more confidence on the platform. Here are few upcoming deals on the platform.

The good part about klub is that deals are of shorter nature (12 months). People should do some research about the brands before investing in them.
Through the link from this blog you can invest INR 2.5 lakh instead of INR 5 lakh as minimum amount.
Securitized Debt Investing – GrowFix
Growfix is launching Debt backed by Two Wheeler Loans. Unlike the Gold Loan product this is a monthly interest payment product.
In the next GrowFix Wheels Asset, the transaction size is 20 Cr. The net NPA is expected to be ₹ 20 Lacs(based on historical performance). To cover that they have additional loans of ₹ 4 Cr. ( About 20 times the expected NPA). The total loans as security are of ₹ 24 Cr. The value of the mortgaged vehicles is ₹ 33 Cr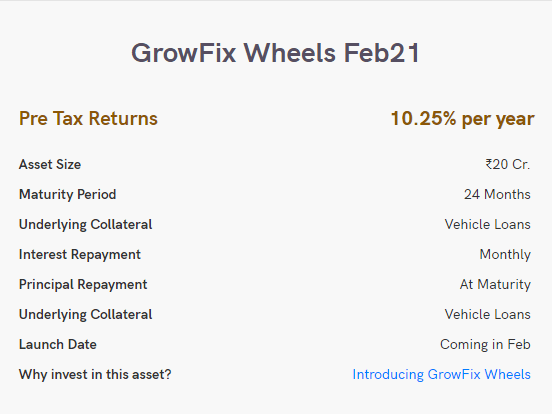 Alternate Investment Leasing- GripInvest
I Have now completed 7 months with no delay in cashflow. Infact most of the followers have had similar experience.
A new feature available on platform( you need to update me offline) is that if you invest INR 2.5 Lakh plus you can get tax exempted IRR of 20% +
Vogo is an interesting deal as it is short term( you get 50% of capital back in 12 months) and the company is cash rich with growing revenue trajectory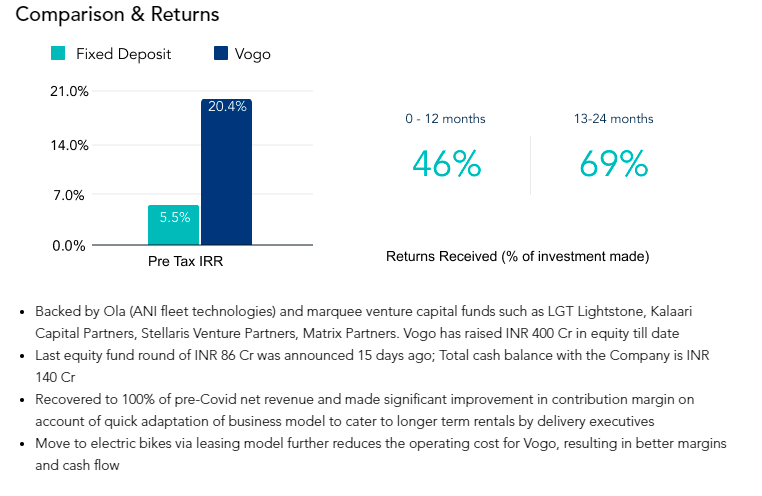 Alternate Investment TradeCred
I have been redeploying my capital on TradeCred as there are always sufficient deals to reinvest the matured amount. My net yield is close to 13% with zero delinquency. Have recently done a 3 year review of TradeCred
Current Deals on the Platform-Coca Cola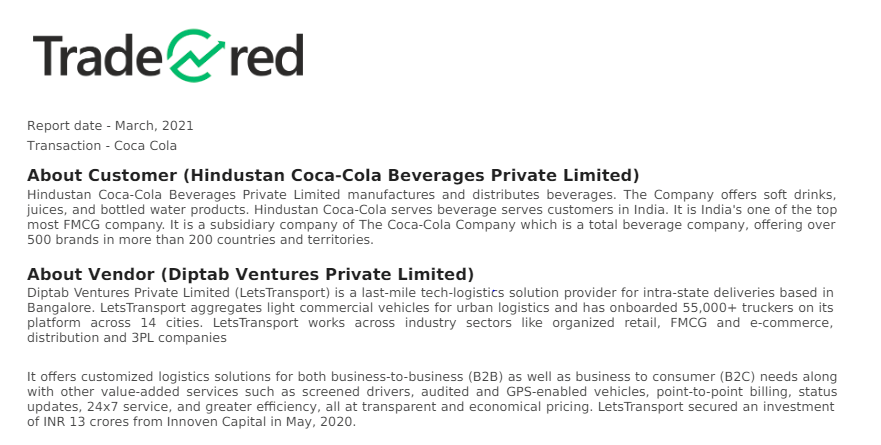 International Alternate Investment Portfolio
Last Month was good opportunity to invest in foreign platform as the USDT(Tether) was trading very close to USD spot level and it was very cheap to invest outside India. Infact the premium has recently gone up to 77 and transferred back some of my USDT for quick profit.
Some of the investment during Covid days on Crowdestor have been in delay hence I am being extra cautious and plan to not add any new capital there till things seem under control.
Reinvest24 properties
Equity/REIT Portfolio
US market has some of the most innovative companies something which India lacks. This year ARK Invest ETF performed exceptionally well which focussed on innovation based theme. Moreover ,betting on innovation and disruptive technology is definitely an area young people should focus on. Companies which can become next Amazon,Google etc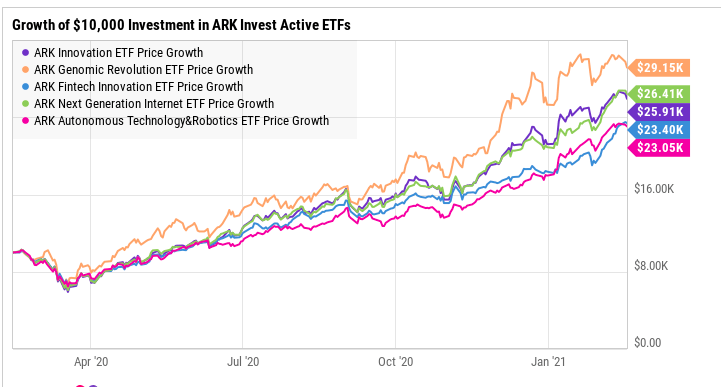 Alternate Investment and Altcoin Interest Account
Celsius Network and Youholder are the top performer with yield close to 12%. Youholder has recently increased yield to 12.7% on USDT ! People can add extra bucks on this tether by shorting USD/INR futures (which trade at 3-4% premium) to gain extra yield on the Tether. After that, If future goes down it makes money, if it goes up you can sell USDT
*for new users who want to buy crypto and transfer to other platforms I recommend using DCX discount link( as Wazirx has increased the withdrawal fees.
*Existing users who have binance linked to Wazirx Can transfer to binance for withdrawal at nominal fees
Altcoin Price and Bitcoin Platform
My Altcoin Portfolio is again on fire. Thanks to the sudden crypto boom in the mainstream media and corporates alike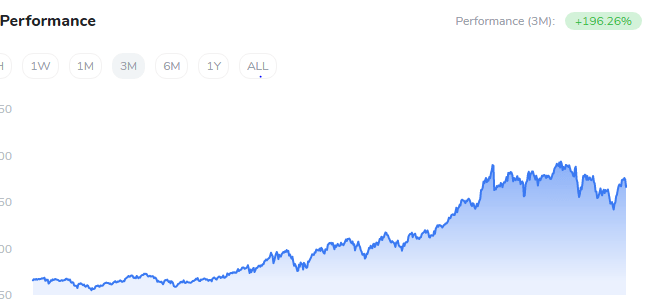 Alternate Investment in Gold –GoldFinX
Goldfinx has struck few interesting mine deals. I hope next few months momentum picks up and the project takes off with increased gold production

Here is the complete article
https://www.newsbtc.com/press-releases/goldfinx-strikes-gold-near-yamoussoukro-the-capital-city-of-the-ivory-coast/
Yields have started hardening and its unadvisable to buy long duration bonds and expose interest rate risk at this juncture. 1.5-2 years is the maximum maturity you should target

Alternate Investment P2P Lending India
I have started increasing my allocation to Rupeecircle as collection has improved and I feel RupeeCircle provides best risk adjusted return among all the P2P portfolio.
Current allocation:
Rupeecircle- 45%
I2IFunding- 30%
Finzy- 25%
| | | | |
| --- | --- | --- | --- |
| Platform | Loans Selected | Expected Yield | NPA Expected |
| I2IFunding | Cooperative banks backed loans,E-Rickshaw backed loans,educationloan,NBFC backed loans etc,group loans | 20% | 3% |
| Rupee Circle | Small business/salariedloans to people with own house and low EMI to Earning Ration | 25-30% | 5% |
| FINZY | Prime Borrowers,High Salary ,A category | 12% | 1% |
| Faircent(Onlypool Loans/Education loans) | credit pool loan | 12% | 1% |