People these days are suffering from hobson's choice when it comes to liquidity. Put everything in saving account ! With the liquid funds yields going down to 4-5% there is not much incentive in taking any incremental risk.
For the past few months I have been exploring some of the options which can deliver higher yield and also provide liquidity. An interesting option to park a part of your Liquid Fund money is " Crypto Interest Account".
Sounds complex but is much simpler than that!.
Why banks pay you such low interest?
The answer is very simple — banks could also pay you 9-10%, they just don't want to, and if we've learned anything in the last hundred years, it's that they certainly don't have to pay you above 5-6% because we're giving them our hard-earned cash for almost nothing in return. Banks have gotten away with lowering the payout rate as they merged with other banks reducing competition and paying depositors the bare minimum in interest while keeping most of the profits for themselves . Look at the yields were some banks are trading compared to the saving bank rate :eg Indusind bank
https://www.moneycontrol.com/news/business/personal-finance/should-you-put-money-in-indusind-bank-fd-at-7-or-buy-bonds-yielding-20-5277301.html
20% Yield but paying 7% FD!!
Alternate lending like P2P provide 14-17% but offcourse its unsecured which is a risk in these times . Is there a midway , a decentralized lending platform which is backed by collateral?
What better than to eliminate the banks in between than using cryptocurrency!
How does Crypto lending Work?
Unless you have been living in the dark, dark cave of purely traditional finance, you have probably at least heard of crypto lending — the trend opening up opportunity for crypto players big and small, and is powering Ethereum's decentralized finance ecosystem to over $1 billion in locked value.
At the core of crypto lending is a fairly simple concept: Borrowers are able to use their crypto assets as collateral to obtain a fiat or stablecoin loan, while lenders provide the assets required for the loan at an agreed-upon interest rate. This can also work in the reverse, where borrowers use fiat or stablecoins as collateral to borrow crypto assets.
You'll likely notice that there is nothing groundbreaking here — they are simply collateralized loans — but credit and lending are powerful financial primitives that open up a wide range of applications and benefits for businesses, institutions, traders and users. Additionally, in the growing DeFi space, this primitive has been unlocked for permissionless, open and composable lending access.
Business model is simple:
People with crypto who want loan put their assets as collateral
For a 100 buck collateral they get around 50 loan (It's called Loan to Value Ratio)
You provide the loan at 8-12%Interest rate
If the value of collateral drops or borrower refuse to pay collateral is sold and in either case you get money back.
Which are the best platform based on the criteria:
reputation
security
Interest
I compared multiple platforms and finally shortlisted these 2:
Celsius Network is a democratized interest income and lending platform accessible via a mobile app. Built on the belief that financial services should only do what is in the best interests of the community, Celsius is a modern platform where membership provides access to curated financial services that are not available through traditional financial institutions. Crypto holders can earn interest by transferring their coins to their Celsius Wallet and borrow USD against their crypto collateral . Interest on Loan account is 8.05% for stable coins and if you take the return in their native token cel it is 10.5% !
Very solid founding team run by Alex.He is one of the inventors of VOIP (Voice Over Internet Protocol) with a foundational patent dating back to 1994 and is now working on MOIP (Money Over Internet Protocol) technology. Over 35 patents have been issued to Alex, relating to exchanges, VOIP protocols, messaging and communication.
How it works?
Step 1) Register free using the link Celsius Network .App based hence download from mobile!
Step 2: Download the app and register ,KYC is super fast (Passport and selfie!)
The other Platform is Youholder :(12% Interest)
YouHodler FinTech platform is focused on crypto-backed lending with fiat (USD, EUR, CHF, GBP), crypto (BTC) and stablecoin loans (USDT, USDC, TUSD, PAX, PAXG), crypto/fiat and crypto/crypto conversions, as well as high-yield saving accounts. The platform supports BTC, BCH, BNB, ETH, LTC, XLM, XRP, DASH, HT, REP and other popular cryptocurrencies and tokens.

YouHodler is an EU and Swiss-based company with two main offices: Limassol, Cyprus and Lausanne, Switzerland.

Youholder  is an active member of the Blockchain Association of Financial Commission and the Crypto Valley Association. Customers are protected by the independent Financial Commission's efficient dispute resolution process.
Youholder provides a higher interest rate equivalent to 12% but it requires minimum investment of 1000 USD .
The loan to value of the collateral pool is also higher here,maybe around 65-70% as some borrower got for 90%LTV,hence slightly higher risk than celsius and higher returns. But nevertheless we can register and evaluate it
A better way to use Youhodler is through MultiHODL: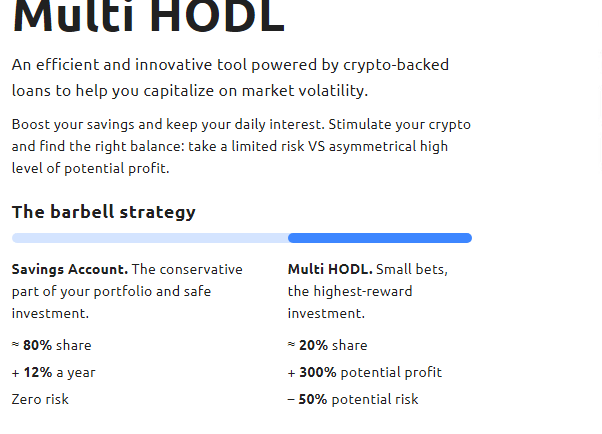 Only use a 30-35% of your Youhodler for this as it a leverage strategy
Step 1) Register free using the button given below :
Youholder Free Link
Step 2) KYC process, passport and selfie
For Celsius and Youhodler
Step 3) Now to earn high interest you need a stablecoin i.e
Stablecoin is backed by USD hence not volatile like bitcoin.
You can buy the stablecoin Tether(USDT) from wazirx without any charges . Register free on Wazirx.International investors can use their local crypto wallet
Process:
Send money to wazirx (UPI,Netbanking etc)
Buy USDT on exchange
Step 4) Transfer USDT to the wallet address provided in the 2 platform(it's an encrypted address which you can copy paste in wazirx while sending money)
Step 5) As soon as you receive the money in wallet (it takes less than a minute) you can start earning.Interest is earned weekly and you can withdraw anytime back to wazirx and then from there to bank account!
Conclusion: You can start with small amount of money .Maybe 20k in Celsius and 1000USD on Youholder ,test it for few months and then decide.
One risk is that platform gets hacked. To protect investor celsius has done 100Million $ insurance with Bitgo and Youholder has kept 1million dollar reserve fund!
Will be posting monthly Return for both soon!