The year two thousand and twenty has come to a close much like it began: Stocks in a bull market, notching fresh all-time highs. Cryptocurrency was the show stealer and other Alternate Investment also did well such as Palladium ,Invoice Discounting ,bitcoin and gold
There are many years that investors easily forget, but 2020 certainly won't be among them. The S&P 500 has surged almost 65% since its March low and finished the year up nearly 14%.Not only S&P but most of the asset classes such as bitcoin and other cryptocurrency hit their record high!
What was unexpected was the speed of market outcomes and its divergence from ground reality!
Wall Street's resurgence has been fueled by the largest federal government stimulus ever, historic support from the Federal Reserve and optimism about how quickly the economy is likely to bounce back next year as coronavirus vaccines become widely distributed.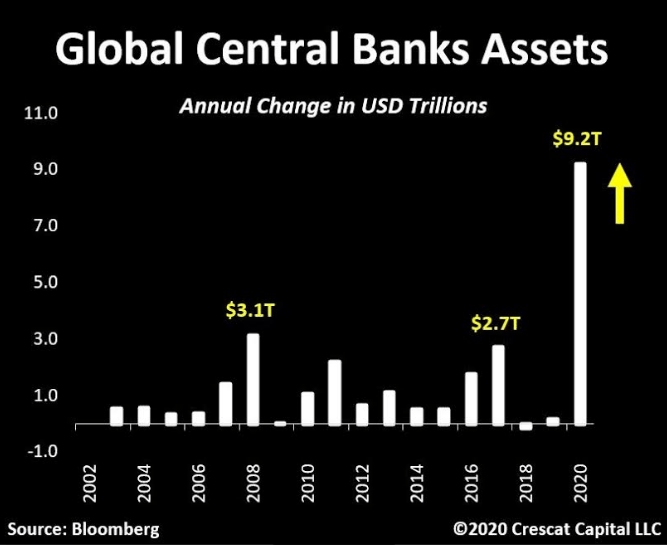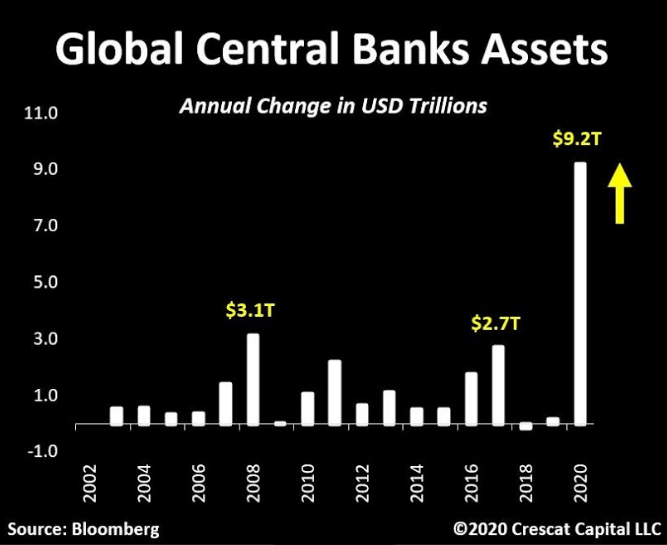 Investors have largely ignored the pain on Main Street, including pronounced unemployment, overrun hospitals and battered small businesses. On the eve of the new year, nearly 20 million people remained on unemployment, a jobs crisis worse than during the Great Recession.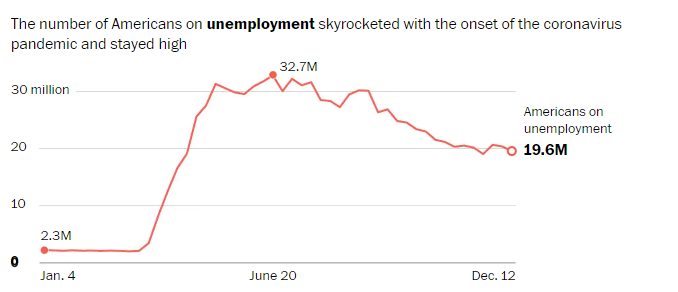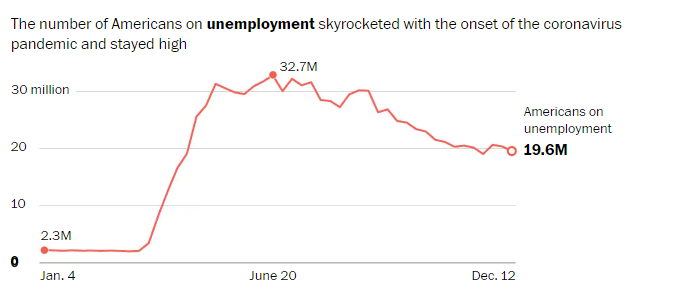 The S&P 500 experienced its fastest-ever bear market, clocking in at just 33 days before its third-fastest recovery to a breakeven level in about five months. Bitcoin dropped 40% in March and rose 50% in Decemeber!
Top performing alternate investment assets for 2020
A big chunk of stimulus has gone into investment assets both conventional and alternate investment rather than spending or economic growth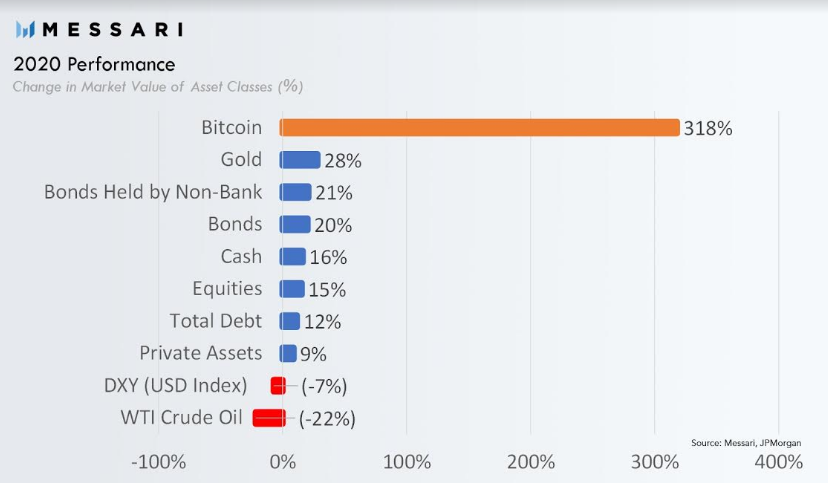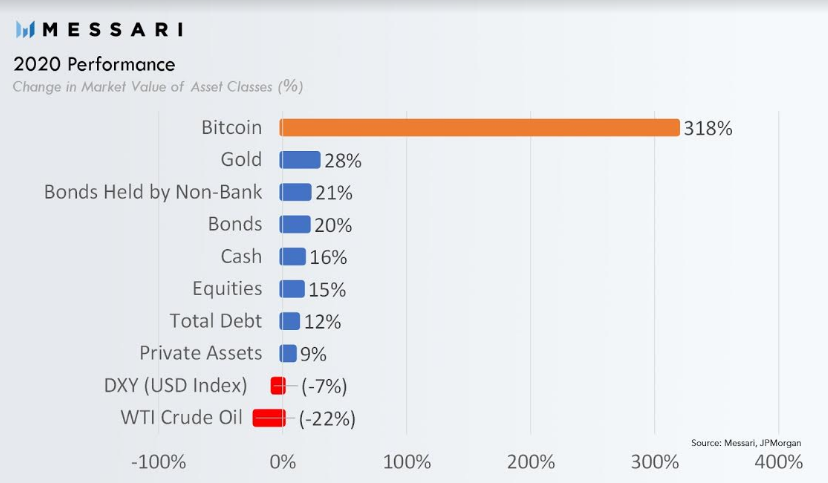 Alternate Investment Performance this year (Bitcoin is the leader)
BTC – 260%
Altcoins : 150% (aggregate of top 10)
Silver- 45%
Palladium -25%
Gold – 24%
S&P – 14%
Tesla was the best performing stock
My Alternate Investment Portfolio Performance(including cryptocurrency)
Asset allocation, alternate investment ,high risk play like cryptocurrency but with diversification has always been my motto. This year it helped me greatly to rotate capital opportunistically to maximize the returns.
Phase I: The Covid Assault on Equity and Bitcoin
Portfolio Jan – March 2020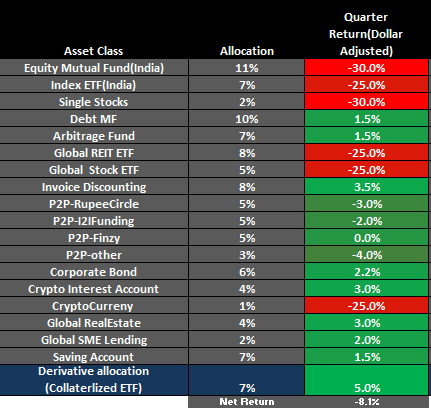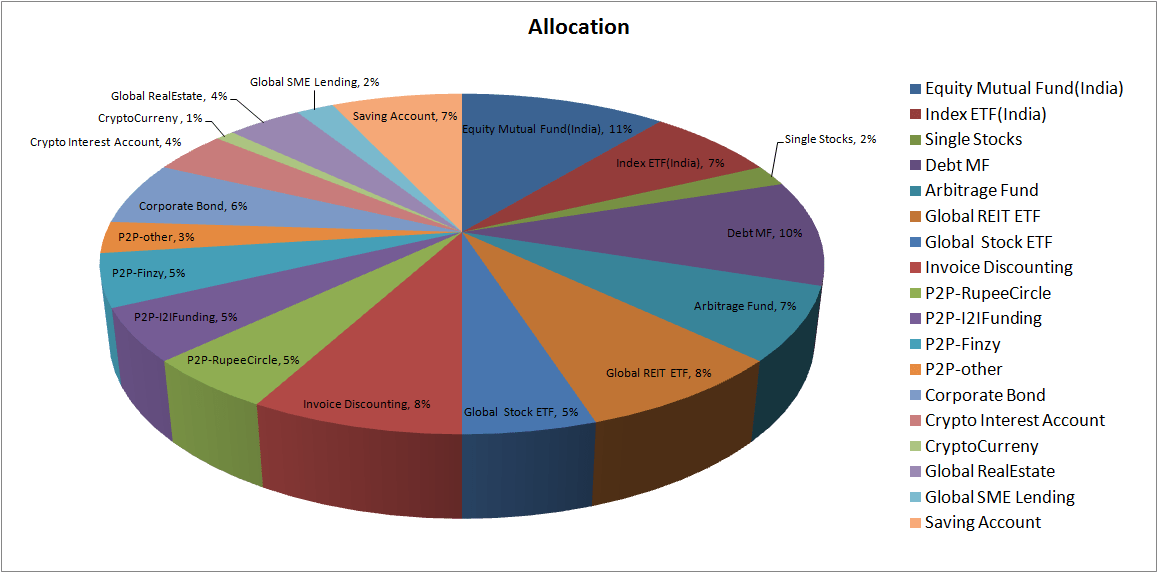 In Phase I I had 33% stock exposure and 1 % exposure to bitcoin and other Cryptocurrency . Due to the Covid-19 related crash my Quarterly return were -8% . I was protected from huge market volatility due to exposure to alternate investment like invoice discounting and Debt Funds
Phase II : Shopping Spree of equity and cryptocurrency
Portfolio April – October 2020
I rebalanced my portfolio in March end to take advantage of equity and Crypto crash. I invested in staggered manner as I wanted to be prepared for a worse crash . Assets which I started adding after crash.
Stocks : Indian and Global
Crypto
Gold/Silver
My total Equity allocation went up from 33% to 49% while Crypto from 1% to 4%.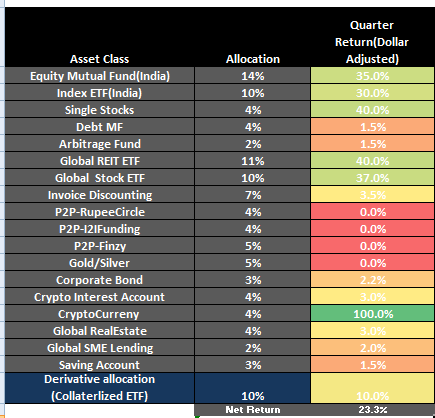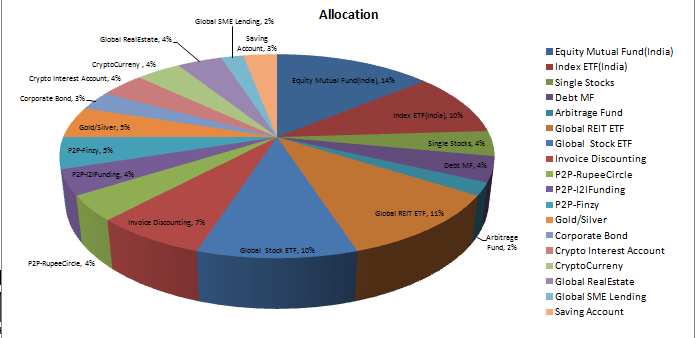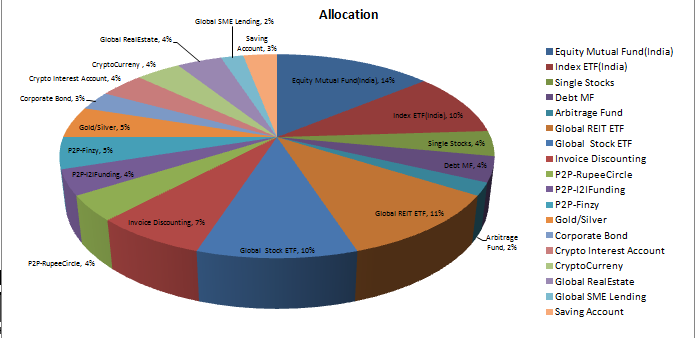 Honestly I never expected such a quick turnaround . I not only recovered my Quarter1 loss but made more returns in one quarter than I had made in last year. Luck played a small part was I was holding both bitcoin and Tesla when the rally started.
This rebound though helped me gain good returns made me skeptical about the sustainability of these returns hence I have gradually started cutting down my equity exposure since oct and cryptocurrency since November. It is tempting to keep buying equity but its better to exercise restrain
Phase III : Profit Booking and Adding Alternate Investment
Current Portfolio for 2021
For me 2021 is about having liquidity ,generate some yield from alternate investment. I will let my profit run in some of existing equity and cryptocurrency portfolio(including bitcoin) while bracing for a crash. Fear of Missing out is a big deterrent and people should not succumb to it.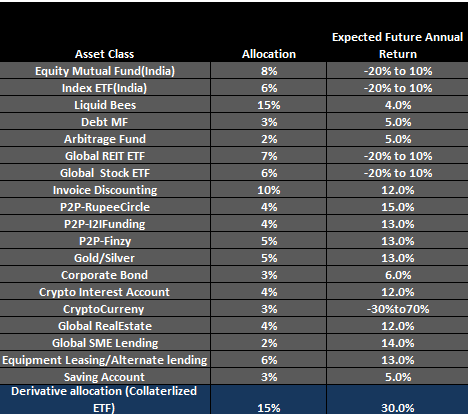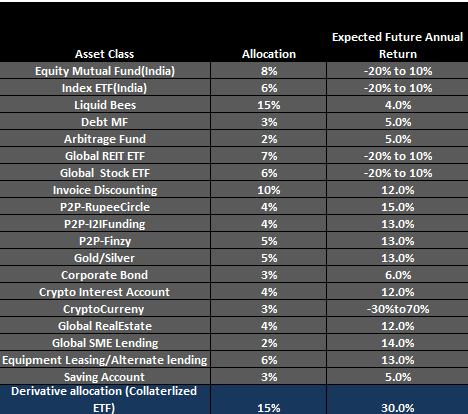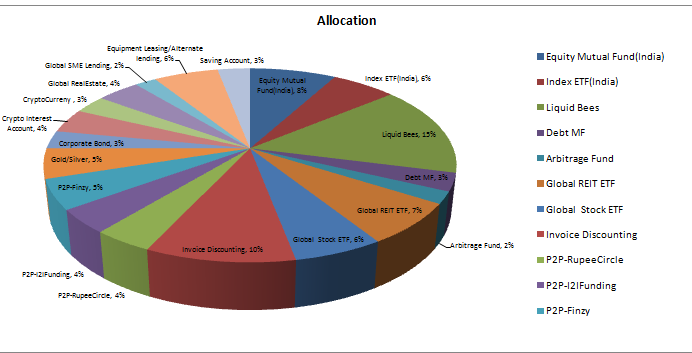 Two decision I have made based on current market valuation:
No more adding Equity unless correction
No more adding crypto unless correction
Cryptocurrency guide for beginners
As it is evident I have kept almost 15% portfolio in liquid bees which I use as margin to trade as trading can fetch anything between 30-50% annually. Liquid bees invest in overnight securities and is one of the safest investment .Current Equity allocation is 27% which I will gradually lower to 15% if market goes further up by 5-10% from here. Bitcoin might up further before losing steam.
When the market corrects I will be reallocating capital to equity ,bitcoin and other cryptocurrency . It may take a while before that happens. These boom and bust cycles have been there since forever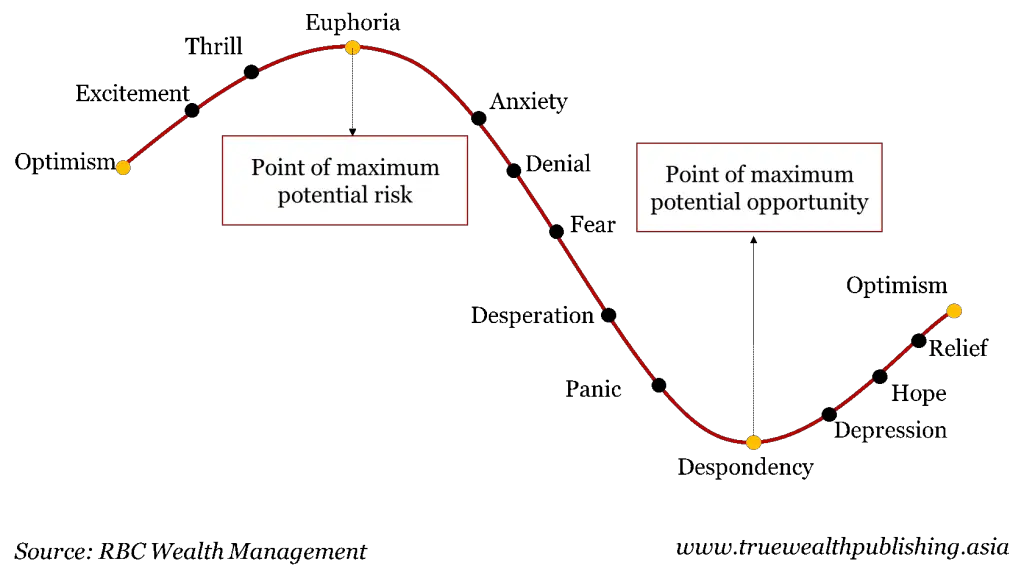 In the meantime various alternate investment platforms which I will be using to generate 10% + yield are :