Lot of People ask the question what is the right number of mutual funds in the portfolio.How to choose a mutual fund?
There is no universal answer to it but we need to take a step back and think what we are doing when we buy a mutual fund. We are basically choosing a fund manager to buy stocks on our behalf.If we put everything in one then we are giving one manager too much control and we we invest in too many then we end up holding a new portfolio which has many overlapping stocks and portfolio weights totally different from the base funds.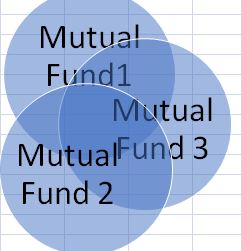 The steps to choose a mutual fund start from first deciding the asset allocation. We need to decide how much we wish to put in equity , debt and alternatives before even picking a mutual fund
Step 1) Decide Asset Allocation
I have covered this many times how adding alternatives can improve our risk/ return ratio favourably. Low correlated assets is the only free lunch in finance! The various options available these days are: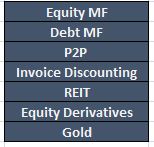 Step 2) Now let's say we have decided how much we wish to put in Equity Mutual funds. I always recommend we should have atleast 20-25% wealth in assets which can be liquidated within a year without risk .Otherwise in an adverse situation we might have to liquidate our equity at loss.
Now we set Criteria for our Equity MF. We have more than 500 Mutual funds ,how do we short list and how many?
First we decide how many Mutual funds we need. For that we need to see how big the stock universe they are covering in each category.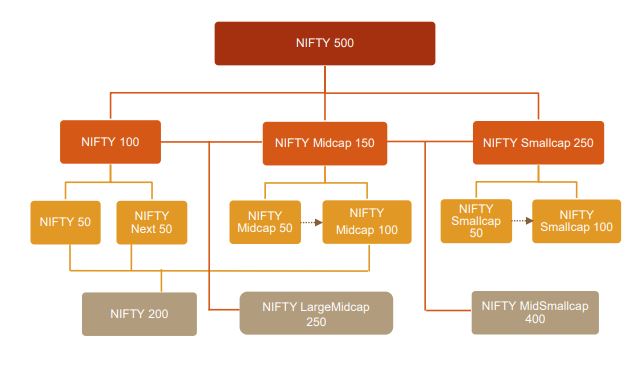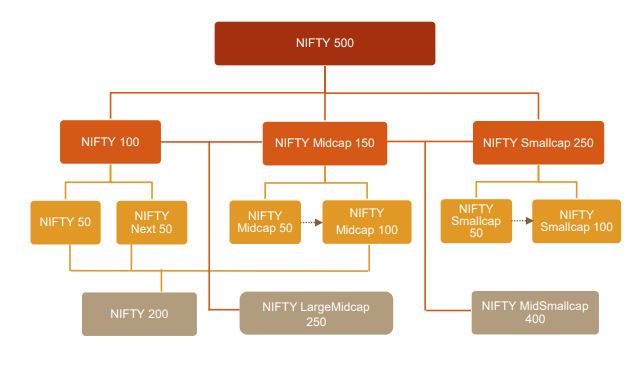 This chart represent the nifty top 500 stocks segregation. There are more stocks beyond these which have very small market capitalization
The Large Cap Mutual Funds cover 1st 100 Stocks i.e. Nifty 100
Mid Cap Mutual Funds cover 101st -250th stock i.e Nifty MidCap 250
Small Cap Mutual Funds cover beyond 250 to 1000+ stocks
Interestingly the first 100 stocks are most researched stocks and generating alpha is very tough. Think about it. Everything about HDFC and INFY is tracked by multiple research firms. There is not much insights you can generate. In small cap its the opposite . Not much is available to oustside world and fund manager who can hustle will get the real insights!
That's why small cap can offer highest alpha but also highest risk as a bad economy can easily wipe out a smaller company.
Now coming to the number of funds we need. For large and midcap 1 fund for each category is enough as Fund manager can easily research these stocks.(small universe and lot of public data)
For small Cap you need atleast 2 Funds with minimum overlaps as you don'y want to concentrate the portfolio and also take away alpha.
We also need one global fund . What is so special about buying stocks in India? Just because we are born here does not mean it's the best stock market. We will buy one international fund to diversify. It will also act as a hedge when rupee weakens as our returns will be in dollars
We have decided we will buy
1 Large Cap
1 Mid Cap
2 Small Cap
1 International Fund
Note: When market corrects a lot i.e say 10% or so ,you may add one more small cap mutual fund, as when market rise again 1) it's easier for funds to pick up alpha 2) you want to be more diversified as you don't know which sector will add the maximum return in a bounce back!
Step 3) Picking the Mutual Funds
I have made a broad filter to pick up mutual funds. People are free to add their own criteria and choose a different mutual Fund.

Based on these criteria I have shortlisted these Mutual Funds:


I also ensure that my portfolio has minimum overlapping and concentration across one stock. People may also opt for index fund in the large cap space. One drawback of index fund is that it has very high exposure to 2-3 names and with the corporate governance issues these days I prefer to keep lower exposure .People who are substantially diversified in other asset classes and also have comparatively lower large cap exposure may use ETF or Index fund in lieu of Large Cap Mutual Fund
Step 4) Check diversification
You can easily check diversification by selecting the weight of funds in your portfolio in a portal like value research.For mutual fund overlap you can go to fundoo.com.For rolling return rupeevest.com
For instance: if you hold
| | |
| --- | --- |
| Mirae Large Cap | 15% |
| Axis Mid Cap | 10% |
| SBI Small Cap | 10% |
| Axis Small Cap | 10% |
| Franklin US opportunity | 10% |
Then your top exposure is:
| | |
| --- | --- |
| HDFC Bank Limited | 1.35% |
| ICICI Bank Limited | 0.95% |
| Reliance Industries Limited | 0.91% |
| Axis Bank Limited | 0.67% |
| Infosys Limited | 0.60% |
| City Union Bank Limited | 0.79% |
| Info Edge (India) Limited | 0.78% |
| Avenue Supermarts Limited | 0.77% |
| NIIT Technologies Limited | 0.827% |
| City Union Bank Limited | 0.785% |
| Mas Financial Services Limited | 0.553% |
Even after a company goes bust your portfolio won't be in deep red!
Step 5) check your liquidity status
I always ensure through my investment in
1)Invoice Discounting
2)P2P
3) arbitrage and Liquid Fund, Saving Bank account
I have enough liquidity to last 9-12 months. Equity investment portfolio should be such that you can live with a 50% fall in the market value and not lose your sleep. Think of it like a 10 year closed ended plan
Lot of people recommend 90% exposure to equity for youngsters. They should factor in that with 10% exposure to other assets the person should be able to meet all the expenses during emergency!
Conclusion: I have tried to construct a portfolio of mutual funds for passive investments which can be rebalanced in 6 months or so. It is important that we hold few but good mutual funds rather than buying whatever they hear from various sources.
Bottomline: You should do your own study and create your own filters .You can post them in the comments!
Note:
Cheapest discount broking and Mutual Fund Investment Platform Zerodha
For alternate investment you can use these links
I2I Referral Link
(First Use the link to register then add the Code I2I50%DISCOUNT while paying to get 50% off)
Rupee Circle Referral Code- PIND145
Rupee Circle
LendenClub Referral Code – LDC11989
LendenClub
OMLP2P Referral Link
(Use Code MNJ6547)
Mail me to get Cashkumar Referral
For starting invoice discounting mail me or drop a message on 9967974993 or mail me at rohanrautela9@gmail.com