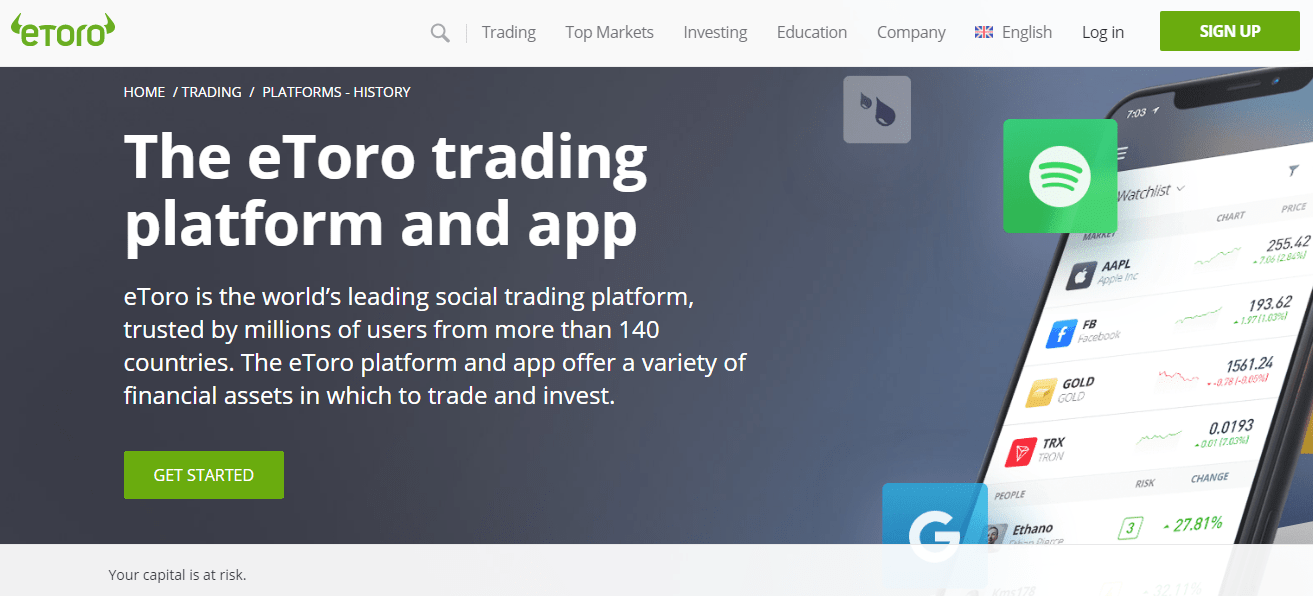 Lately lot of people keep asking me to tell them my trades. The problem is trading is very dynamic and is not possible to copy my exact trades .As I understand lot of people are new to the world of trading. They have 3 main problems:
How to trade various asset classes?
How to Learn Trading?
Who to follow as a mentor for Trading?
The problem is people can lose a lot while learning.I found out there is an easy way to get around this with limited risk.
Welcome to the world of social trading!
ETORO TRADING ACCOUNT is a broking platform where you can copy any trader and your portfolio automatically replicates his/her strategy. Let's discuss this step by step
What's copy Trading and what's ETORO TRADING ACCOUNT ?
Founded in 2007 and based in Cyprus, eToro's narrow focus on social and copy trading has underpinned rapid growth that now boasts more than 10,000,000 clients worldwide. The platform also offers these services in the cryptocurrency  space.
The most unique feature of eToro is probably 'CopyTrader'. This allows you to sort through other users and plainly see their trading history, including how much they have made or lost over any given period. If you find someone you like the look of, you can allocate some funds to automatically copy their trades.
The key feature of this unique proprietary platform is the ease in which an individual client is able to implement copy trading. The eToro platform features many traders who want to be copied and who follow risk-control rules. This accessibility then allows retail account holders to mimic the trades and trading strategies of the most successful clients, automatically and in real-time. While other brokerages have a similar capability, none have integrated it with social media communication quite as well as eToro has.
What all you can trade?
No Limit!!! :
Stocks,ETF zero brokerage
Crypto,Currency and Commodity
You can buy and create short positions for overnight too!
Now let me tell you a hack and how to go about doing it!
Just because it has all the assets and top traders in the world does not mean you will make money
Blindly following someone has risks,you need to be prudent about selecting the Traders.
How to deal with the problem! You can use this platform to learn with minimal risk!!How to do it?
Step1) Register on ETORO using the link to earn 50$
Now when you use it to register deposit 200$ dollar(credit card is the fastest option) and make few trade you will be eligible for sharing the referral link with anyone and when your referral makes few trades both of you get 50$ each and you can further go on and refer 10 people to earn 500$
So now you have 250$ in account, so 25% Return instantly!
Step2) ETORO TRADING ACCOUNT provides a wonderful feature of Virtual Trading
The eToro demo account, better known as eToro Practice Account, with free and unlimited access and the possibility to use $ 100,000 of eToro virtual money, is one of the most popular. It is exactly like real world but the only difference is the money is virtual,but it's an amazing feature to test your trades,copy portfolio etc and check out which is the best asset class/trader to copy for you.
Step3) Replicate those virtual trades with small amount of money.
Start trading with small amount of money. As you already have got referral bonus( you can add 10 people to get 500$ ) use that money to trade and there is nothing to lose but to again lot of trading skills
Now that you have explored the site a little, I'm going to share the 3 main ways to invest on eToro with you.
Copying other good traders (Copy People)
This is the simplest way to invest on eToro . When you copy someone, every trade they execute is simultaneously opened in your account too and then closed when they close it.
It's all proportional to what % of your total account's funds you choose to allocate to them (more on this later), but ultimately you will achieve the same rate of return as they do.
Finding reliable traders to copy on eToro isn't always as straightforward as it might appear. You need to know what to look for and what to stay clear of (more on this later on). Allow me to help you master the art of copy trading…
Avoid the most common mistakes!
Let me point out the numero uno mistake beginners make right away: being a sheep. When you venture into the ' Copy People' section looking for a trader to copy it's intuitive to sort by 'most copied' and blindly copy the top results. You'd think that the most copied people have lots of copiers for a reason, right? The wisdom of the crowd perhaps.
But the reality is that most people on eToro are complete beginners and don't really know what they are doing. If a few people copy a trader for the wrong reasons, that trader can quickly 'go viral' with exponentially more copiers following suit without thinking for themselves. Let me give you an example
Having warned against consistently under-performing traders, the other big pitfall beginners fall into is over-trading. It's incredibly tempting to keep checking how much you've made or lost every few hours, but emotions will cloud your better judgement and lead to tinkering.
No trader will EVER profit every single week or month, so I highly recommend you take a medium/long-term approach. This requires patience and discipline, but you're more likely to see better gains over time.
Finding the best traders to copy
First off click on 'Copy People' on the eToro sidebar.
You can either simply scroll down the page to see promising and trending popular investors…
Past performance is not an indication of future results. Trading history presented is less than 5 complete years and may not suffice as basis for investment decision. This is not investment advice.
…or you can use the advanced search feature. Everything in blue you can change to meet the
criteria you're seeking in potential traders to copy.
Hit 'GO!' for a list of matching traders, ordered by the number of copiers they have. To further drill down use the filters at the top.
5 attributes EVERY trader you copy should have:
Really demonstrate their market knowledge and experience on their profile feed
Have low weekly and daily drawdowns (basically how much they've been 'down' over a given period). Anything more than 10% should be a red flag
Don't have ridiculous returns. I know this may seem counter-intuitive, but if you see someone with 1,000%+ returns in a very short period of time, realise that this is unsustainable luck and can only be achieved by being reckless
Don't have a 100% win rate. It's perfectly normal to close some trades in the red, this is a sign of discipline and experience. Beginners chase their losses, proper traders know when to cut loose
Are communicative. You want to copy someone who can help you learn and is willing to share their trading methodology. If they don't reply to your messages they either don't care (likely to trade carelessly too) or they don't know how to answer because they don't have a clue what they're doing!
Also stock and ETF buying is free so you can also use this account to own some ETF if you dont have other foreign brokerage accounts till now
Bottomline : Dont go overboard!! Use the platform as learning tool do not commit more than 250-300$ of your capital initially as temptations would be high to put in more money !
So enjoy social trading,learn, make money and improve your skills with limited risk!! Maybe you become a pro and have people copying you!