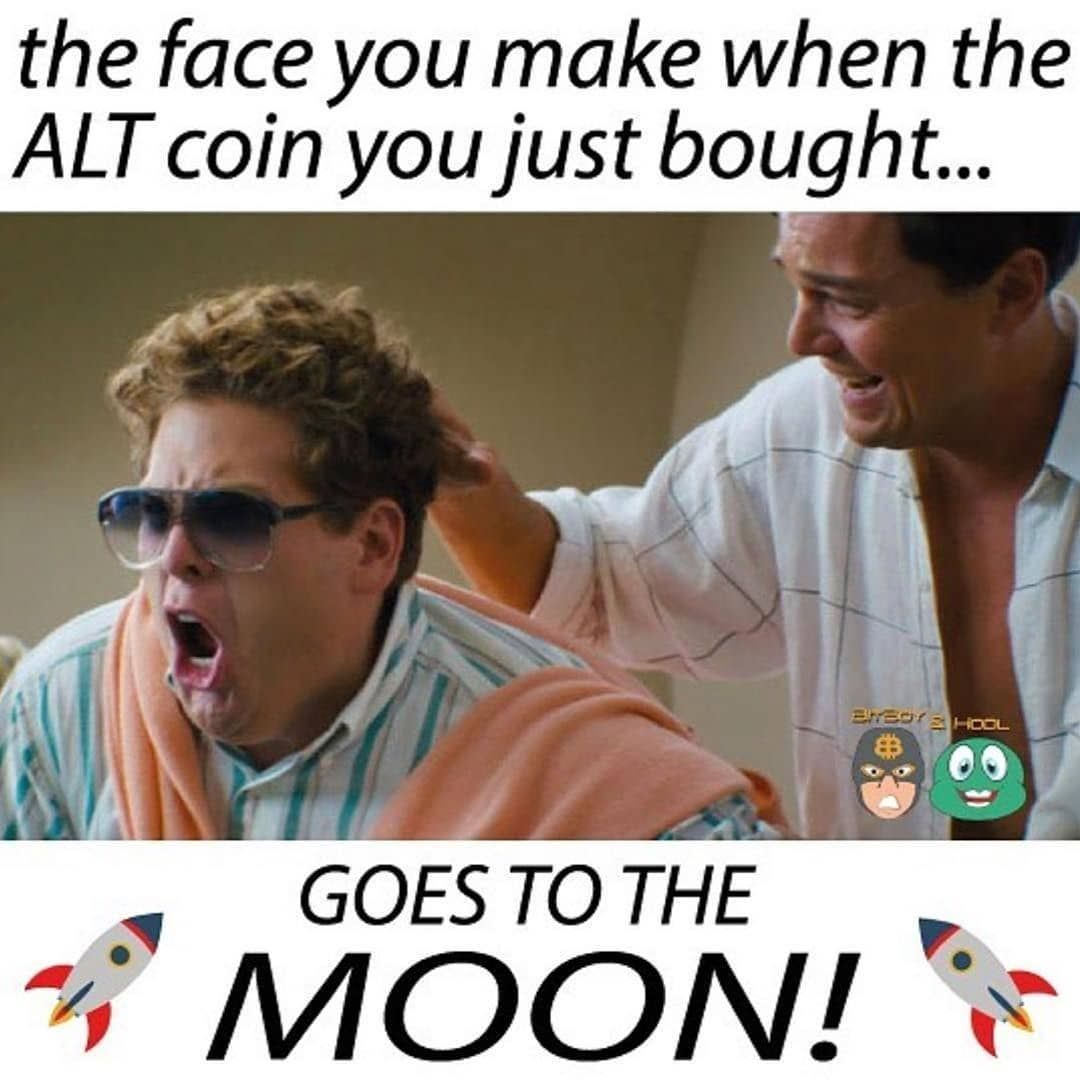 Alternative Investments had a stellar year! Conventional markets also gave a 25% return albeit with lot of volatility. In 2021,  markets continued to be affected by Covid-19 uncertainty, with new waves and debates around the vaccine's effectiveness raging on. Events such as the Federal Reserve's continual printing of dollars,the Evergrande saga etc have also contributed to the market's turbulence throughout 2021. This volatility consistently spilt over into the equity and crypto market making 2021 a challenging year to earn consistent returns. Bitcoin started the year at $29k rising to an all-time high of just over $68k in November before dropping to $47k .
Let's see some of the hits and misses of the year in our portfolio
Winners of 2021
Equity Market
US Market gave 27% returns in 2021 and was the best performing market in the world!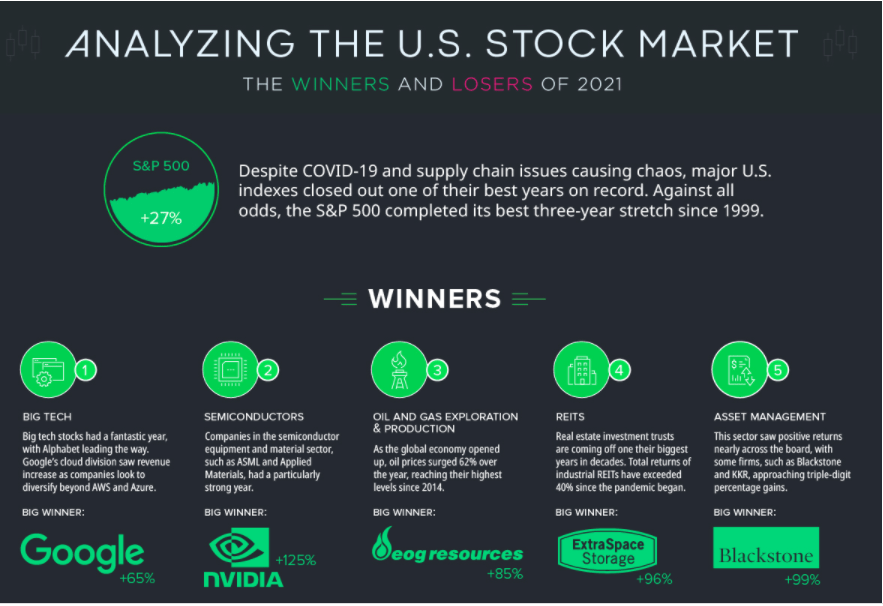 Indian Markets were not far behind with  25% Returns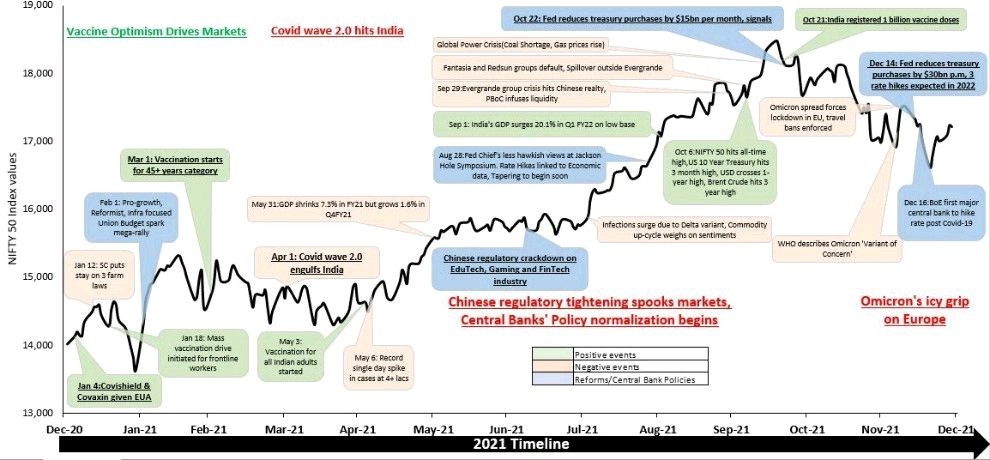 Cryptocurrency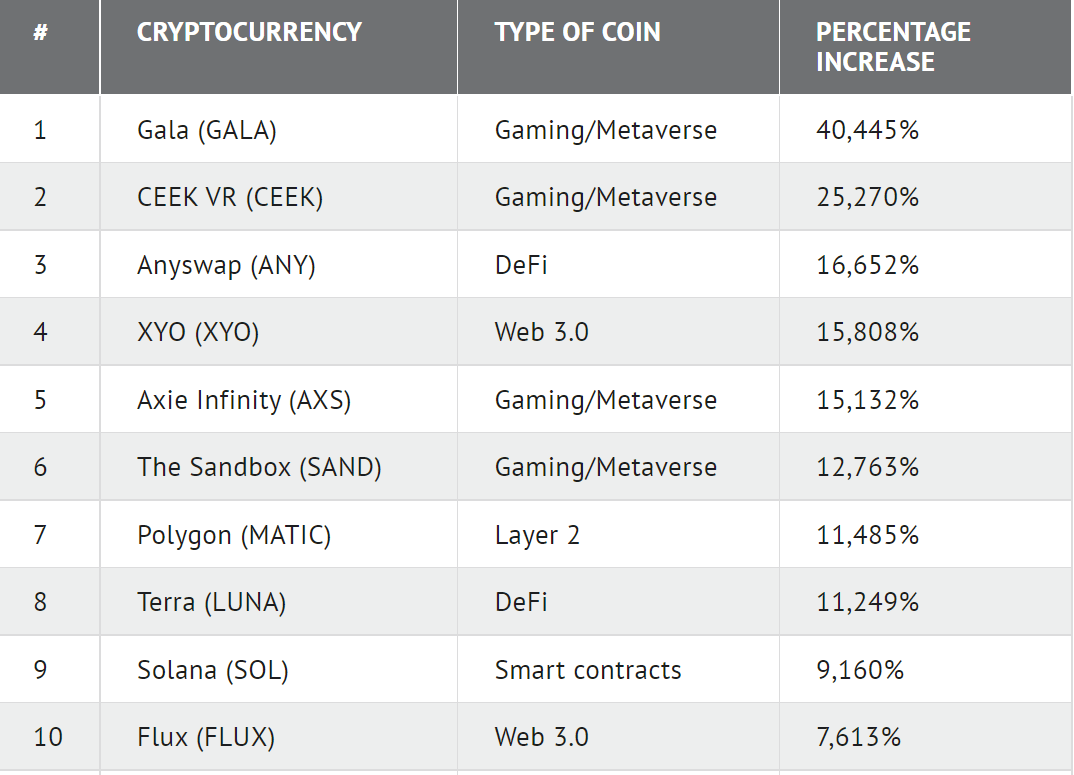 While the equity market might have done well, Cryptocurrency was the show-stealer with Altcoins delivering insane returns
This has been the year in which cryptocurrencies made it into mainstream finance when everyone from celebrities to athletes and art auctioneers dived into blockchain-based digital collectors' items and play-to-earn platforms transformed the dynamics of the gaming economy.
Institutional and retail investors alike have piled into crypto assets, blockchain-based products, and services like non-fungible tokens, turning a $1 trillion market into a $3 trillion one in under 12 months.
Most recently, the rise of the metaverse has created a new wave of investment opportunities for everything from digital land to digital designer goods.
I played the crypto Market through
My Altcoin Portfolio gave 700% Returns this year which was much lower than the performance of some of the top-performing altcoins but still not a bad outcome
Alternative Investments Yield Based
I started with many new platforms this year while continuing with existing ones.  Below is the Performance of the platform. Unlike 2020 where covid dragged performance,this year all platforms performed well with timely cash flow.

 New Platforms on-boarded
Some platform where I have recently invested or will be investing in near future and will evaluate the returns post that
| | |
| --- | --- |
| Platform | Asset |
| Legal Pay | Litigation Funding |
| Raison Ai | Pre IPO Investment |
| Upcide | Yield Products |
 Derivative Trading
This year I was able to generate 38% return on capital deployed. This was a tough year compared to last year with more volatility and low premiums which made high returns on capital a difficult task unless I took more risk which I decided was not worth it.
 Losers of 2021
RupeeCircle – Since the change in management, the platform has started showing a lack of transparency. I was annoyed when they reinvested my funds without permission. They also do not provide adequate information on collection status. I have decided to put all investments in halt unless I receive some clarity
LendenClub – The P2P has received recent funding but the performance of the platform had been dismal in the past with no update on delinquent and NPA status. I have invested in Bharat pe 12 clubs but decided to stay away from standalone LendenClub
Goldfinx- What started as a great idea of investing in the royalty of mines through crypto has been in the quagmire of confusion for a long time now. With the prolonged delay in the listing of tokens, the platform has made it very frustrating for the investor. I hope this year they list the token and investors are able to reap some benefits
Crowdestor – The high yield loans on the platform seemed quite lucrative to invest but the poor collections and indefinite restructuring of loans have made me wary of the team. The platform now seems too risky for my comfort.
Way forward
I am quite excited about the alternative space and have been observing great traction. Lot of new platforms are entering this space. This is a great thing for investors as they can choose better deals.This also means that people need to do more due dilligence to separate chalk from cheese.