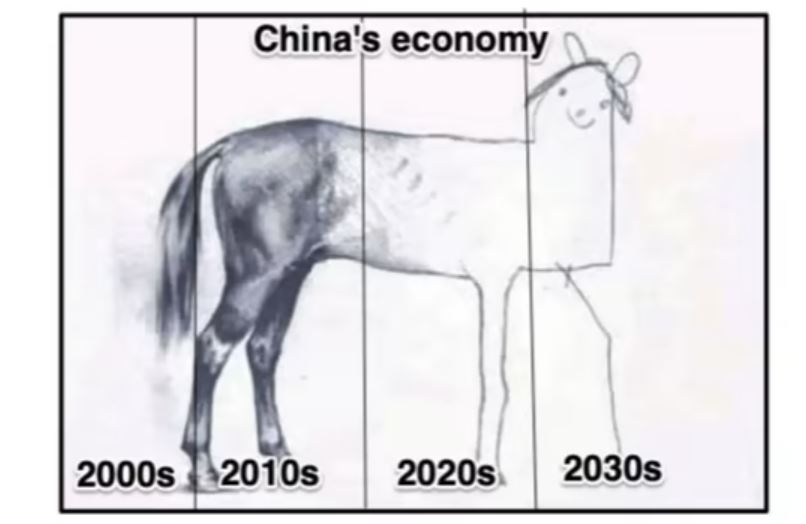 Macroeconomic cues were mixed this month. India's GDP grew by 7.8% in the April-June quarter, as per government data—the official GDP data for the Indian economy for the April-June(Q1) quarter. While the Indian economy showed signs of strength, China is facing an impending recession.
The past six months have brought a stream of bad news for China's economy: slow growth, record youth unemployment, low foreign investment, weak exports and currency, and a property sector in crisis. US President Joe Biden described the world's second-largest economy as "a ticking time bomb", predicting growing discontent in the country.
Telegram channel for details on new deals
Alternative Investment Portfolio Performance
This month we explored 2 new platforms
Incred Money
Alyf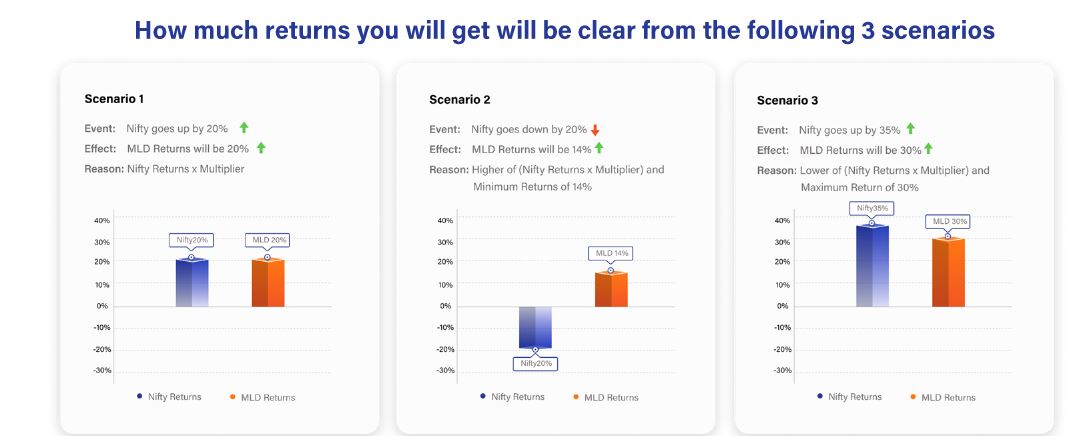 Incred Money is an investment platform focussed on products like bonds and Structured products. It is the first platform in India to introduce Market Linked Debentures for retail investors. The product is ideal for those looking to participate in the market without wanting to take the downside risk of market volatility.
The best feature I liked about the product is that it provides liquidity to investors and thus makes it more attractive.
I have also invested in one bond on Incred Money.
Alyf is a platform through which investors can buy fractional holiday homes. The differentiating factor for Alyf is that it focuses on homes and flats rather than commercial properties which means that it would be easy to exit the opportunity at a future date if required. Investors also get timesharing in the properties they purchase. These properties are in holiday destinations like Goa and get good  Airbnb revenue!

I will continue to test the platform with limited exposure before allocating a much higher capital.
We are facing a startup winter which can affect some of the deals in the alternative portfolio. To create more information dissemination about deals I encourage people to share their experiences on the Randomdimes forum. You can also create new topics to share opinions and views.
Lending Investment
| | | |
| --- | --- | --- |
| Platform | Returns | NPA |
| Grip Invest | 13% | 0% |
| Klubworks | 15-17% | 0% |
| WintWealth | 10-11.5% | 0% |
| Jiraaf | 12-15% | 0% |
| Pyse | 10-11%(Post-Tax) | 0% |
| Afinue (Upcide ) | 13%(Post Tax) | 0% |
| Growpital | 16%(Tax Free) | Blended Yield |
| Leafround | 15-18% | 0% |
| Altifi | 12.50% | 0% |
| Better Invest | 16-18.00% | 0% |
All my cash flows in 

Klubworks, WintWealth, Pyse, Leafround, 

and 

GripInvest

are per schedule.

Invested in  Vedika LoanX deal on Grip offering 12.7%.
Invested in a Couple of Invoices on Leafround ( Peelworks, Freyr)
Received my Bhanix NCD coupon and KNS infra repayment as per schedule.
Invested in Satya Microcapital for 13.25% on Altifi
Grip Bigspoon Update  – Grip recently shared an update on a leasing deal that had some repayment pending and the company is going through stress. Below is the excerpt of the deal.  Grip has been quite proactive and transparent in handling challenges related to the investment portfolio.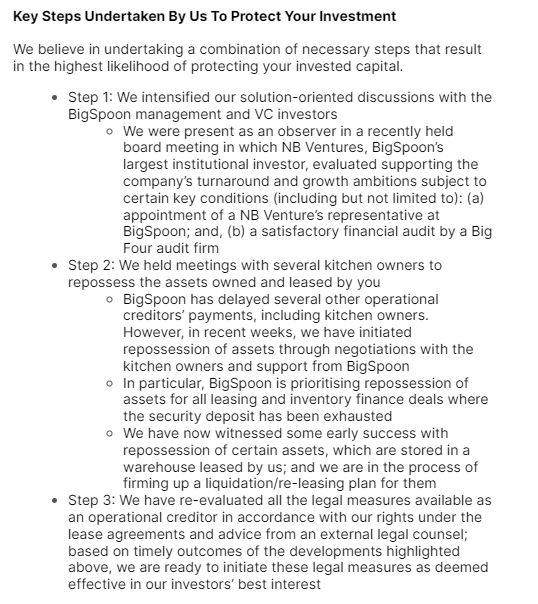 A comparison between Securitized investment vs. bond deals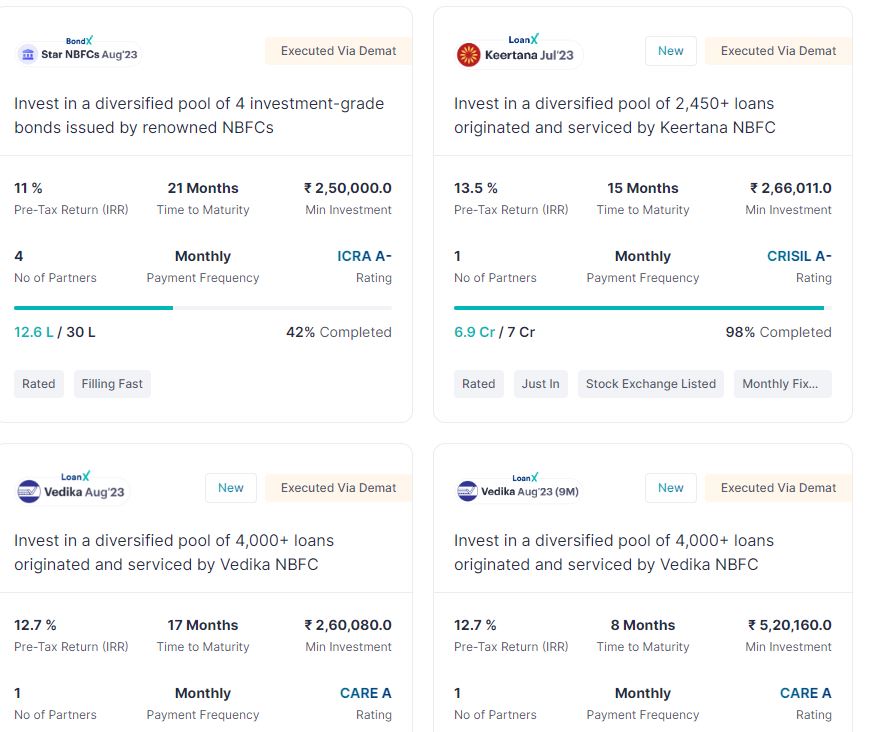 In securitization, the originator packages a pool of loans and assigns his interest therein, including the underlying security, to a bankruptcy remote & tax neutral entity which, in turn, issues securities to investors. The idea of such an exercise is to completely transfer the interest in a pool of loans to the investors.
Securitization allows investors to improve their yields while keeping intact or even improving the quality of investment because :
Direct investment in a pool of loans and not indirectly through bonds, which means even if the company defaults investor is protected.
Higher Yield compared to High Rated bonds
 Extra protection through Extra Interest spread and FD etc. to make up for any defaults in the pool.
Updated on Upcide (Afinue)
Upcide has rebranded itself Afinue (use code MR630878). I have invested in a few deals on the platform. I really like the knowledge of the founding team. They have deep experience in the financial sector. They have come up with a new opportunity which I am subscribing.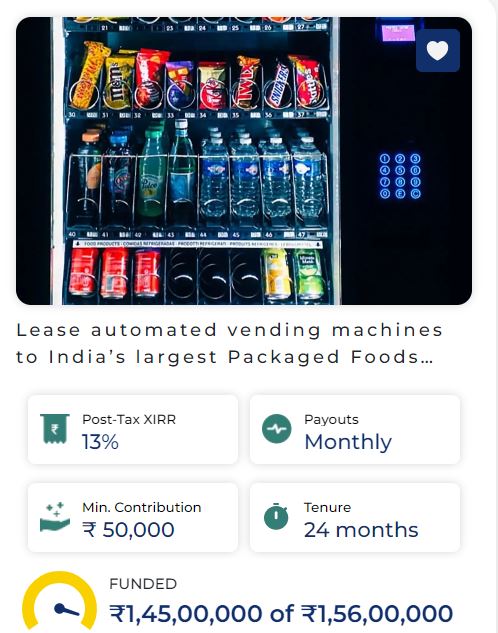 I got an opportunity to talk to the founder of Afinue (Mr Avishek Bannerjee ). He has shared his insights on the platform and leasing as an asset class. We will be uploading the video in the below channel this week.
Randomdimes Youtube
New Deals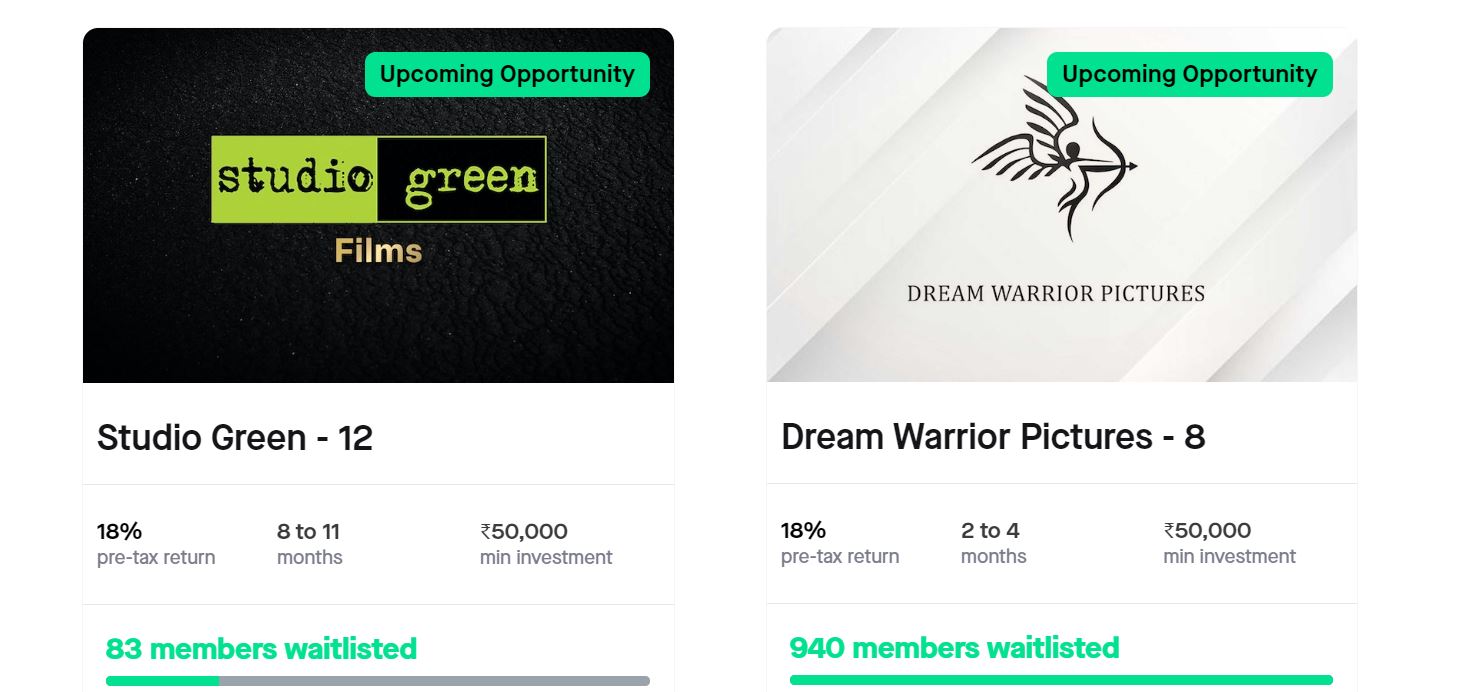 Invoice Discounting and Pooled Loans
| | | |
| --- | --- | --- |
| Platform | Returns | NPA |
| Liquiloans | 9-10% | 0% |
| Tradecred | 11.50% | 0% |
| Lendbox (Per Annum +Settlement Finance) | 11.50% | 0% |
| Lendzpartnerz | 14.0% | 0% |
| KredX | 12% | 0% |
Lendbox Per Annum returns are as per expectations with seamless liquidity. Current yield 11.75%
Using Liquiloans/Per Annum to Park Short term capital
Invested in Bizingo on Kredx
Have invested in 3 deals to date on Lenderpartnerz
Crypto Investing
Crypto is going through a long-drawn bear market. Though large institutions have started adopting Bitcoin, we can see a 2-3 year period sideway window before BTC shows a massive rally in the future.
The U.S. Securities and Exchange Commission (SEC) postponed its decisions on seven Bitcoin exchange-traded fund (ETF) proposals, including one submitted by BlackRock, the world's largest asset manager.
Seven firms — BlackRock, WisdomTree, Invesco Galaxy, Wise Origin, VanEck, Bitwise, and Valkyrie Digital Assets — published ETF applications in the Federal Register on July 19. The SEC was scheduled to rule on all seven applications by Sept. 4. However, the regulator postponed by 45 days meaning the seven firms will now have to wait until mid-October for a decision.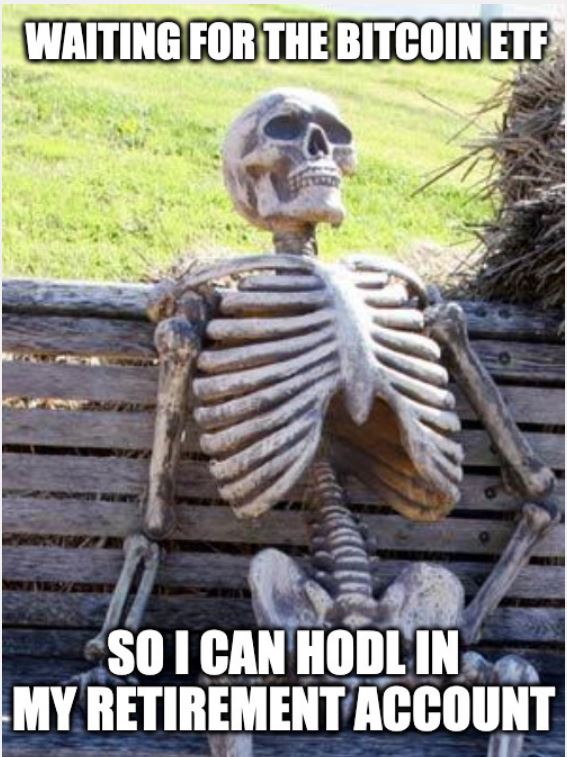 I will be adding BTC in small quantities at these levels with a 3-year window for 100% gains. Will keep all BTC in the hard wallet and avoid any trading on exchanges.
You can buy Hardware Wallets on Etherbit
Current allocation:
India P2P – 55%
12Club – 5%
I2IFunding- 15%
Finzy-10%
Faircent Pool Loan -15%
| | | | |
| --- | --- | --- | --- |
| Platform | Loans Selected | Yield | NPA |
| I2IFunding(Paused) | Urban Clap Loans, education loans, Group loans | 13.5% | 4.8% |
| IndiaP2P | Only Women Borrower Loans, Branch-based p2p lending | 17% | <1% |
| FINZY(Paused) | Prime Borrowers, High Salary, A category | 13% | 3.7% |
| 12 Club | Only Minimum amount | 12% | 0% |
I have completed 1 year of using IndiaP2P with steady performance.
I2Ifunding and Finzy have a very low volume of loans and I haven't added any new capital in the last 4 months.
The systematic investment plan loan on Faircent ( Only SIP Loan) is doing well
IndiaP2P Performance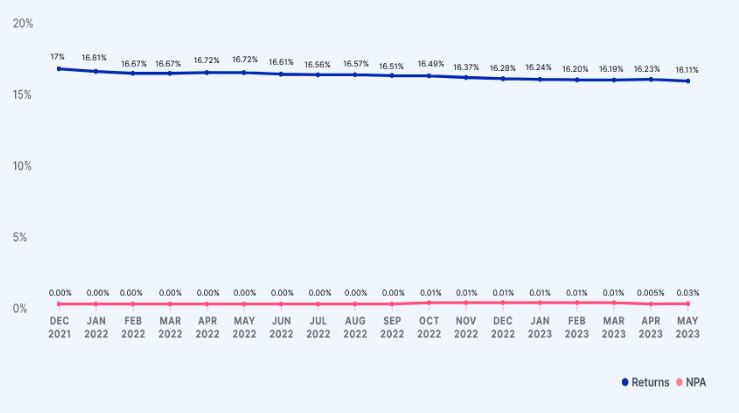 Equity Market
PreIPO Stocks
The Indian IPO market has gained momentum in 2023 so far tracking a rally in equity markets with stellar debuts on chart. Most of the issues have given double-digit returns, and have peaked up to a whopping 106% since the date of listing. This has buoyed the pre-market also but investors should show restraint and only buy stocks with good valuation.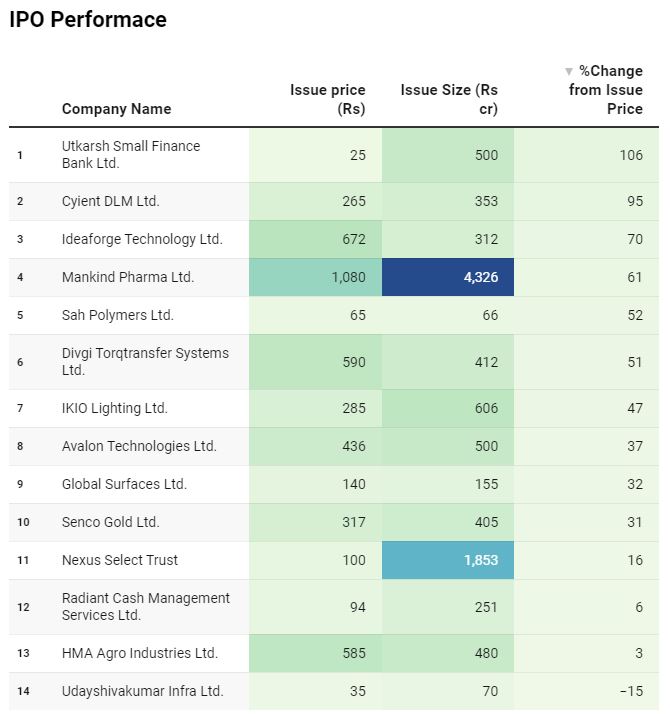 The current price for NSE has gone over INR 3300-3350 based on the quotes some brokers are offering for a minimum ticket size of 500.
Listed Stocks
The five-month rally on Dalal Street came to an end in August as the Indian stock market indices declined in the month amid volatility and selling by foreign institutional investors (FII). Below is the valuation of  India compared with other countries. I am planning to keep my equity investment to the minimum and will add in case there is some correction in the upcoming months.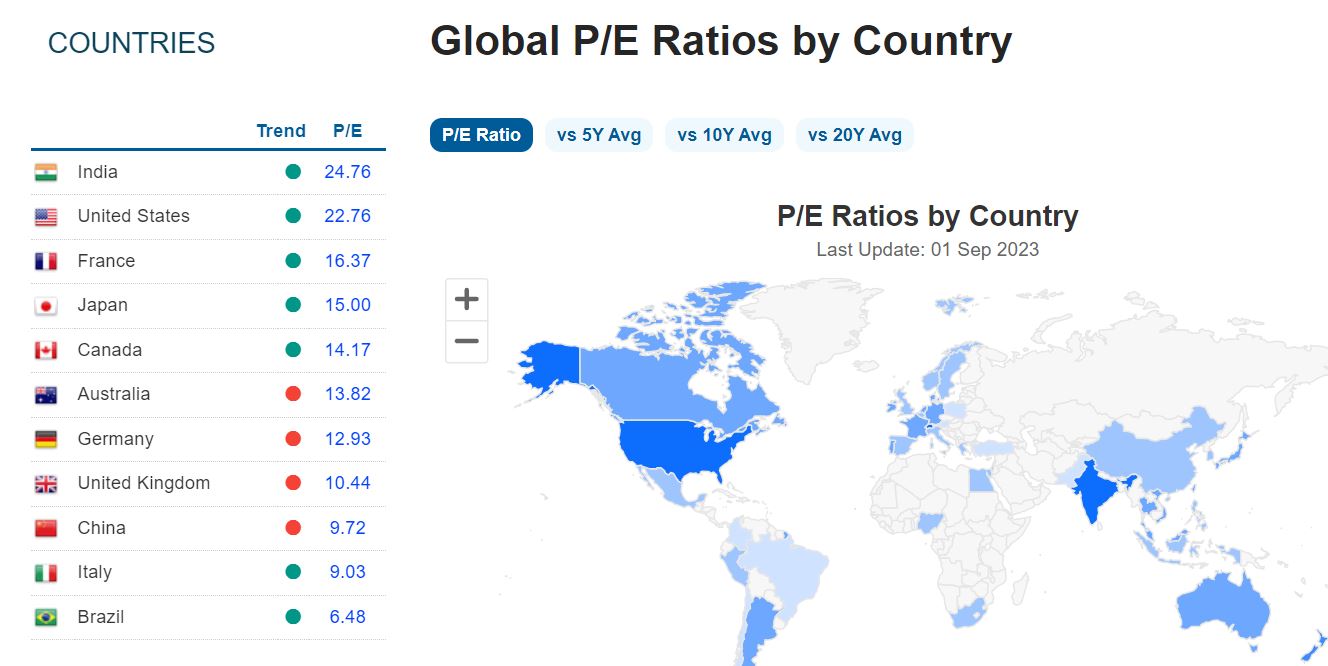 Other Alternative Investment Assets  and Platform Updates
Growpital Investment –  The performance of the platform has been satisfactory till now. They had recently organized a farm visit. If anyone has attended please do reach out and share your experience.
Growpital(Promo code GROWRDIMES)
Sustvest Investment – My Sustvest Portfolio has been doing fine and repayment is on time. Waiting for the next opportunity to go live.
Fractional Real Estate Update- My investment in MYRE Capital has been performing as expected.  It is now called Yiedlwisex. I have been exploring other real estate platforms like Alyf. Will be doing a comprehensive post on the real estate options investors have.