Investing in cryptocurrency has become quite popular and millions of people are investing in it. One crypto exchange that has grown popular can is Vauld. One of the unique features that they offer is Vauld Fixed Deposits. Let us try understanding this concept in finer detail in this Vauld fixed deposit review article.
What is Vauld Fixed Deposit?
Vauld is a crypto platform and is based in Singapore. The service does not offer crypto exchange options but partners with Binance as the exchange partner. One of the best features they offer is crypto fixed deposits.
Vauld Fixed deposits are similar to the fixed deposit in your bank. The only difference is that you would invest or deposit your crypto coins in the deposit. Vauld offers you interest rates based on your crypto coins. The interest is paid every week and in cryptocurrency form itself. You do not get the fiat currency.
Creating Vauld fixed deposit is quite easy and simple. Your crypto deposit should be done and ready in just a few seconds, except for BTC, which may take slightly longer. The minimum deposit should be $1 worth of cryptocurrency. There is no limit on the maximum value of the cryptocurrency that you can invest.
Vauld Fixed Deposit Interest Rates
The interest rate offered to you would be based on the currency or token that you have deposited. They would be different for each of the tokens. You will find three different interest rates offered.
Current interest rates are as follows: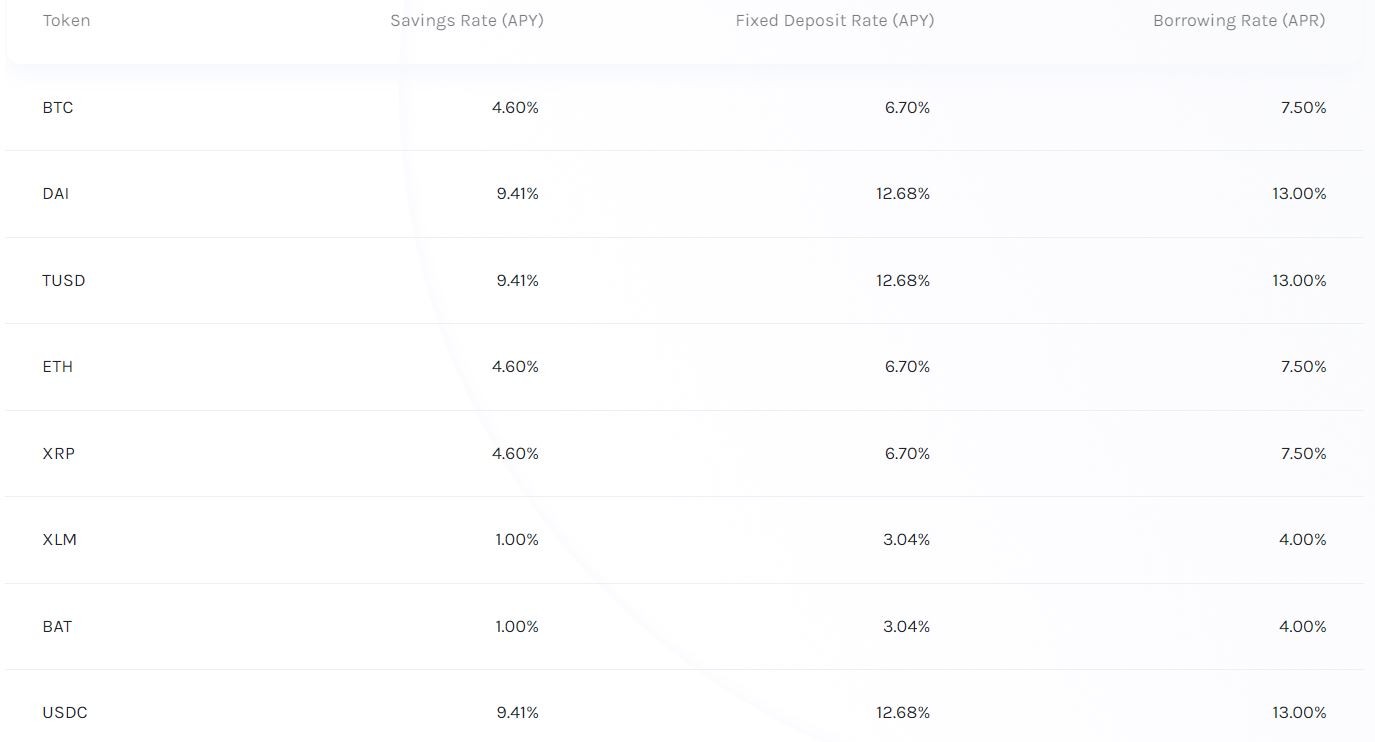 You can get access to the interest rates for other currencies at this link.
The Savings Rate refers to the interest rate that you get as soon as you deposit the funds into your Vauld account.
The Fixed Deposit Rates are the ones offered after locking your funds in the fixed deposits.
The Borrowing Rate is the interest rate charged on loans borrowed by non-institutional borrowers.
Vauld Fixed Deposit Review
Like we already stated above, creating a fixed deposit on Vauld is quite easy and simple. Depending on whether you are on a mobile app or a browser version, click on Fixed deposit or Investment tabs, respectively.
Pick the asset that you would want to deposit and follow the instructions.  Do note that not all coins or tokens are accepted for fixed deposits. It may be a good idea to ensure that the coins you buy are available for the FD facility. Using the auto-renew feature, you can opt for renewing the principal only or choose to renew both principal and interest.
You may break the deposit any time & withdraw, sell or transfer the funds at your will. The interest is compounded whenever it completes the term. For instance, if you have opted for the weekly interests, it will compound every week.
You do not need to pay any penalties for closing a fixed deposit at any time. You may close your Vauld fixed deposit account at your free will at any time and get the interest on a pro-rata basis.
When you deposit your coins with Vauld, they will be in possession of Vauld, and you do not own them any longer. If Vauld gets hacked for any reason, your coins might be lost. There is no detail available about the security of your funds.
Vauld Fixed Deposit Alternatives
Apart from Vauld, there are many other options that you can try out for earning interest on Crypto holdings. In essence, they do not call them FD or Fixed deposits but allow you to lend your crypto coins for earning interest on them.
Celsius
Celsius works on the same lines as Vauld, but the concept is not referred to as Fixed deposits. It does support more than 40 different cryptocurrencies, and some of them would include Bitcoin, Ethereum, and stable coins such as USDC.
The service pays over 17% APY every week. Just as in the case of Vauld, you earn the interest in the form of the crypto asset that you are lending. The interest paid is automatically deposited into your Celsius account and continues to earn interest at a compounded rate.
As for the security of your deposits, they are not insured by any legal authorities. Celsius claims that it lends your money to institutional borrowers, but even then, there is no way to assure the security of your investment.
Blockfi
Trusted by more than one million users, Blockfi has been one of the best cryptocurrency exchanges that you can check out. You can earn up to 9.5% APY on your crypto assets through investments in a BlockFi Interest Account (BIA). This is akin to the fixed deposits on Vauld.
The BlockFi Interest Account (BIA) lets you earn the interest every month – and compounded monthly. Any amount in the BlockFi Interest Account (BIA) is deposited in an account of licensed institutional custodians on the network.
Of course, it comes to the usual risk factors. It can result in loss of investor capital in certain cases. Though Blockfi claims that such a thing has not happened in the past, it does not, however, guarantee that it may not happen in the future. Read our detailed Blockfi Review
Youhodler
Youhodler is yet another exchange that offers you up to 12 percent of APY for lending your crypto assets. The exchange or crypto bank supports several coins that include Bitcoin (BTC), Pax Gold (PAXG), USD Coin (USDC), True USD (TUSD), and more.
Youhodler is a direct crypto lending platform and does what it claims to. If you are looking for juicy returns, this one should be your best bet for all your investment plans in terms of Crypto assets. The services offered by Youhodler are available all over the world except in the US, China, Iraq, Bangladesh, and North Korea.
Youhodler works with a host of crypto institutions and ensures a huge degree of security for your funds. There are systems in place to monitor the transactions and prevent illegal schemes. Read our detailed Youhdler Review
Binance
Binance is a platform on which Vauld works, and that should make it almost equivalent to Vauld. You can invest your crypto assets in interest-bearing products like crypto savings, loans, and staking. The auto subscription feature should be one of the unique and best options that you would find quite interesting.
Binance Earn is one of the best schemes that would help let you earn compound interest on your crypto assets. You may also opt for the Binance locked accounts and gain higher interest rates on longer period accounts. This is quite akin to the Vauld Fixed deposit scheme.
Conclusion
Well, Vauld is indeed a great investment option if you are looking to earn more money on your crypto assets than keeping them idle. It should be your best option for depositing, trading, or even swapping your crypto assets with ease and a decent degree of security.
We hope you would have liked this post on Vauld Fixed Deposit review. You can check more articles on similar crypto platforms on our blog.